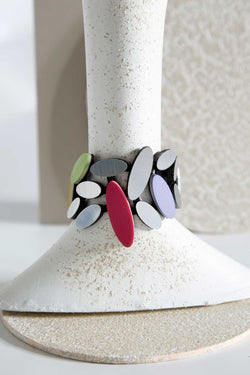 Iskin Sisters
Colors Petals Bracelet - Silver+Colorful
Introducing our mesmerizing Colors Collection, meticulously handcrafted using hand-painted acrylic, shimmering silver acrylic, and supple leather, all brought together to create the enchanting bracelet you've been dreaming of.
Embrace the brilliance of this stunning bracelet, as its geometric design and vibrant colors add a captivating allure to your wrist, elevating any outfit to new heights.
Indulge in the joy of wearing this lightweight and comfortable bracelet that fits like a dream. Its snap closure ensures easy wear, while the high-quality materials guarantee durability and style that lasts.
MATERIALS:
Premium Acrylic Construction
Luxurious Leather Accents
Effortless Snap Closure
INCLUDES:
Your exquisite bracelet arrives in a beautiful gift packaging, perfect for surprising a loved one or as a cherished treat for yourself.
 >SIZES>
it comes in 2 sizes, small & large, according to the length of the leather straps in the back, for smaller or larger wrists. the model is using small. (size small: adjustable to 16.5 cm and 17.5cm - size large: adjustable to 18.5 cm and 19.5 cm)