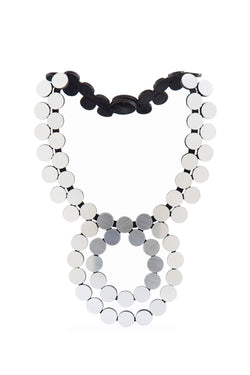 Iskin Sisters
Abstraction Necklace with Circle Pendant - Silver
Inspired by the perfect geometry of the circle, Abstraction is both elegant and eye-catching. This necklace is so versatile that it often becomes an every-day go-to. It's made of silver acrylic that has a mirror finish.
As with all our jewelry, this statement necklace is so lightweight and comfortable, you would almost forget you are wearing it, but for all the compliments you receive when you have it on.
>MATERIAL>
suede and acrylic construction. magnetic closure.
>INCLUDES>
statement necklace in beautiful gift packaging.
>PACKAGING>
unique felt-lined folio to protect jewelry finish and fabric gift bag for safe-keeping.